Antibody production services
We deliver the materials needed for R&D purposes and proof-of-concept studies; we can also assess the developability of your antibody to mitigate risks for the later stages of your project.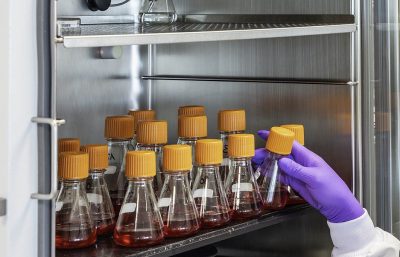 High-throughput antibody production
To meet your needs during your antibody drug development process, we have developed high-throughput transient transfection services using our optimised in-house protocol. We can conduct hundreds of transfections in parallel in both CHO and HEK cells.
Our services are designed to provide you with up to several milligrams of your antibodies to perform in vitro or in vivo assays. We cover your needs from your antibodies' sequences all the way to the delivery of purified antibodies with an analytical package that can be adapted to your needs.
Antibody developability assessment
Early developability assessment is a crucial step to mitigate risks for your antibody development programme and offer the best chances of success in the clinic.
Drawing on our expertise in process development, we are able to assess multiple antibody attributes that can impact the developability of your antibody.
Our standard developability assessment package includes the production of selected variants and a range of in vitro analyses to identify the best hit in terms of expression level, stability, safety and efficacy. This package can be customised to the needs of your project.