In the rapidly evolving landscape of biopharmaceutical development, finding the right Contract Development and Manufacturing Organization (CDMO) cannot be overstated: choosing a client-centric biologics CDMO is critical to the success of your project. This critical decision can make or break the success of innovative projects. As the industry's demand for specialized expertise and capacity continues to surge with ever tightening budgets, the quest for a trusted CDMO partner becomes increasingly paramount.
In search for the ideal biologics CDMO partner, various pressures and complexities persist, from resource-related challenges to nurturing fruitful relationships. A pivotal factor in the selection process lies in finding a CDMO that can resonate with the unique pulse of the project. Understanding the project's scope, goals, and intricacies, and establishing a mutually beneficial and trusted partnership sets the foundation for the ideal support a CDMO should provide.
In this blog post, we will explore the key aspects that make a CDMO client-centric, and why selecting such a partner can have a transformative impact on your clinical development.

1. Understanding Your Unique Project Goals
At the heart of a client-centric approach lies a genuine effort to understand your project goals and constraints. From the initial discussions, a client-centric CDMO invests time and resources in grasping the intricacies of your project. The CDMO's team seeks to understand not only the technical aspects but also the broader context of your programme; the scientific challenges to be faced, your risk management approach, the project timelines, and budget constraints. By gaining this comprehensive understanding, they can align the proposed approach with your objectives.
GTP Bioways has a team of Quotation Managers that specifically focuses on understanding our clients' needs. The Quotation Managers have a long-standing experience in research and project management that makes them privileged interlocutors for bringing even early R&D projects to the manufacturing table. They understand the specifics of your project and help you plan the journey of your innovative therapy to the patient.
2. Designing a Customized Approach for Your Biologics Programme
If the CDMO understands the specifics of the project, then it is easier for the teams to offer a tailor-made proposal in line with your objectives and needs. Whether you aim at producing an injectable vaccine, an intranasal drug to treat allergy, Regulatory constraints will also be seen as key to the decision-making process, depending on the final application. The effort required in process development to reach the objectives and comply with national regulatory authority guidelines is very much project specific. A global vision is thus necessary to design the most suitable strategy that will identify major milestones, anticipate contingency plans to avoid pitfalls and smoothly move forward the project during development.
GTP Bioways understands that projects are diverse and multifaceted. Instead of offering pre-packaged services, we tailor our expertise to address your specific requirements. Our Quotation Managers help you formalize your needs and objectives through dialogue. They dissect your project to expose the elements that may represent an advantage or a challenge during development. They can also help you define initial objectives in terms of critical quality attributes and their specifications. Once all available information has been discussed, a proposal can be put together by our Quotation Managers with input from our technical experts, our qualified person, our quality assurance team, and our Chief Scientific Officer. Work plans include decision points to let our clients efficiently manage the risk and keep control of the project.
3. Offering a High Level of Agility and Adaptability During Project Execution
In the ever-evolving biopharmaceutical landscape, projects can encounter unforeseen challenges that demand quick and efficient responses. It is crucial that the biotech and the CDMO continue to work with a common vision of the project. Setbacks should not result in long delays or unanticipated expenses. Therefore, the ability to foresee the challenges and risks and identify appropriate actions while keeping track of deadlines, costs and client satisfaction is a must-have strength for a CDMO.
When partnering with GTP Bioways, you know that you will have a dedicated Quotation Manager and Project Manager whose role are to provide you with a high level of service and support. With a proactive approach, we can adjust the agreed strategies and processes to accommodate changes, ensuring that the project remains on track and adheres to the defined timelines. We are used to working with projects with a high level of scientific complexity, for which we can provide a high level of flexibility and responsiveness. The majority of our clients being small biotechs in need of speed and reactivity, we know how important it is to maintain open communication. We not only address unexpected obstacles, but we try to anticipate them so they are not unexpected enabling  as much as possible for the project to stay on track. Our goal is to facilitate a streamlined and successful project execution, ultimately leading to the efficient development of your process and manufacturing of clinical material for your target patients.
We hold frequent virtual meetings with our client's team to discuss milestones, challenges and potential adaptations of the project plan based on results. Regular meetings are always a great opportunity to share real-time data on process performance. If new data suggests the need to modify the production process for enhanced efficiency, we will swiftly adapt our approach, conducting feasibility studies and implementing the necessary changes.
4. Transparent Communication for a Trusted Partnership with your Biologics CDMO
Effective communication is fundamental to a successful CDMO-client relationship. It is crucial to maintain transparent and open channels of dialogue from the commercial discussions to the final release of material for clinical trials.  Having a reliable partner that involves the client in the decision making process is something every biotech should look for in a CDMO.
At GTP Bioways, we provide regular progress updates, share data and insights, and promptly address any concerns or questions you may have. This clear and honest interaction builds trust and fosters a collaborative environment: we value our client's input (you have nurtured the project from the beginning) and actively involve project stakeholders in the decision-making process. By working collaboratively, we tap into the collective expertise of both teams, fostering a creative and can-do attitude.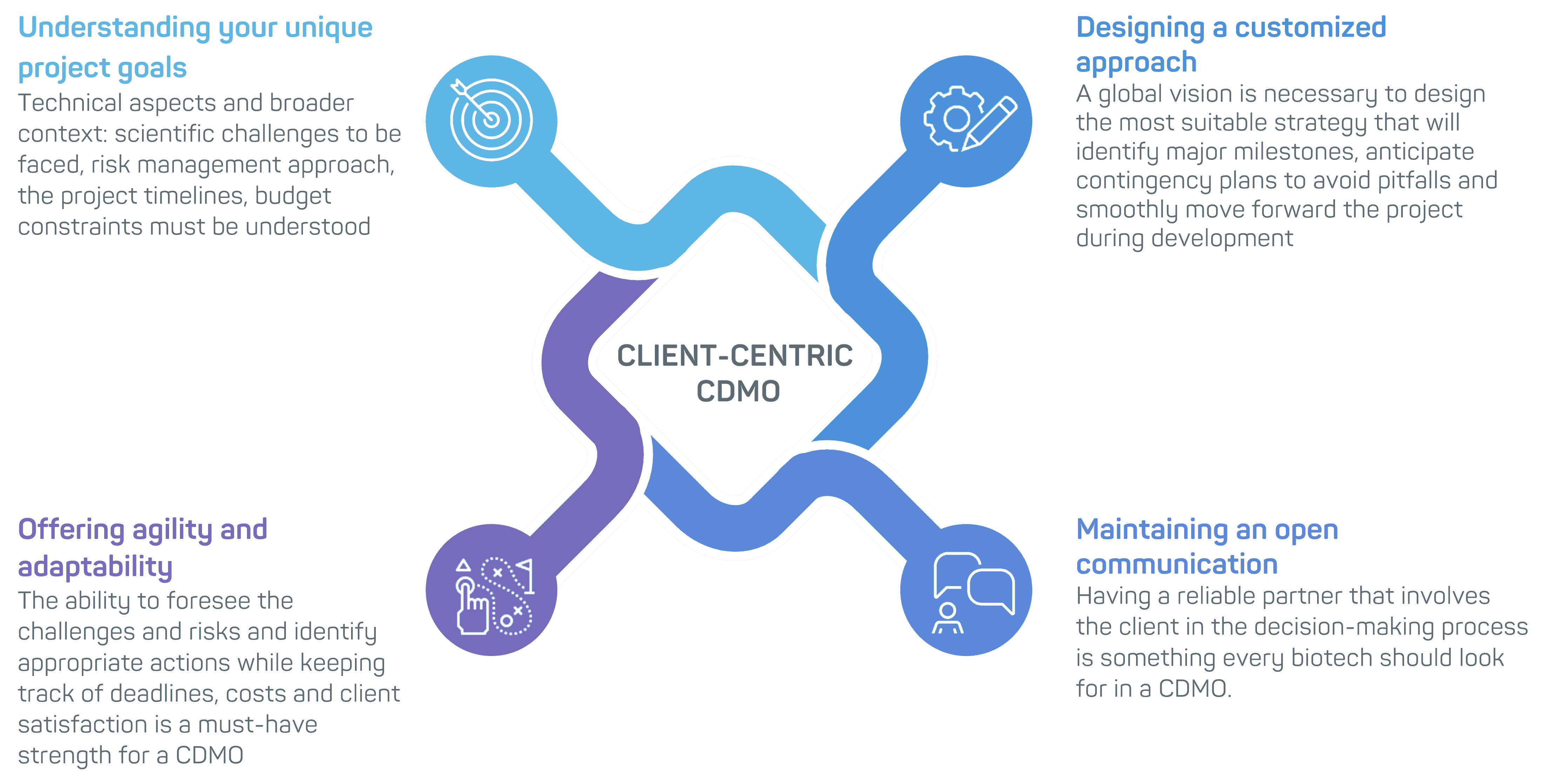 Client-Centric Biologics CDMO, Your Key to Success for Clinical Development
To conclude, selecting a client-centric biologics CDMO for your biopharmaceutical project can be a game-changer. By prioritizing your project goals, offering customized solutions, maintaining transparent communication, fostering a collaborative partnership, and upholding high-quality standards, a client-centric CDMO demonstrates its dedication to your project's success. With such a strategic partner, you can confidently navigate the challenges of biopharmaceutical development, accelerate innovation, and ultimately bring life-changing therapies to patients worldwide.
With a strong commitment to be more than just service provider, GTP Bioways takes pride in becoming a strategic partner to its clients. Collaborating hand-in-hand, our goal is to transform our client's vision of their biopharmaceutical into reality, guiding them through clinical development with unmatched dedication and enthusiasm.