GTP Bioways is an experienced CDMO with a recognised expertise in the development and manufacturing of biologics (antibodies, proteins, bioconjugates and other complex biologics) and nanodrugs. Our mission is to partner with our clients to accelerate their product development. To succeed, we want to help you get around these key challenges:
To support your project and help you succeed, GTP Bioways assigns an experienced Project Manager to each project ; whether you're developing or manufacturing a therapeutic molecule. The project manager is your primary on-site contact, providing effective communication and action follow-up.
GTP Bioways is your partner as you move from laboratory to market. Our project management team will help you overcome challenges through the entire therapeutics development process.
Our CDMO Project Management approach for biologics and nanodrugs production
GTP Bioways has an efficient and structured set-up, with a dedicated project manager assigned to each project – from process development to fill and finish activities. Each of the individuals on our team is well-versed in more than just their core discipline: they also have a deep understanding of the science behind the projects they oversee. This scientific knowledge allows them to address concerns with direct solutions.
When you work with GTP Bioways, you will deal with a single dedicated project manager able to 'wear several hats' and who can discuss your concerns with everyone, from researchers to the financial team and CMC managers. Our Project Management team puts the right set-up in place, plans and coordinates the completion of development and/or manufacturing activities. Among their key activities, the project managers:
Ensure project objectives are met (quality, costs, deadlines, customer satisfaction) and monitor project status to make sure everything stays on track
Plan by anticipating changes and risks and identifying appropriate actions, as well as considering the boundaries, budgets, time frames and key stakeholders
Coordinate all functions involved in the project (process development, manufacturing, quality control, regulatory affairs…) and act as the primary customer interface
Our mission is to provide you with a high level of service and support from beginning to end. We believe your success is our success.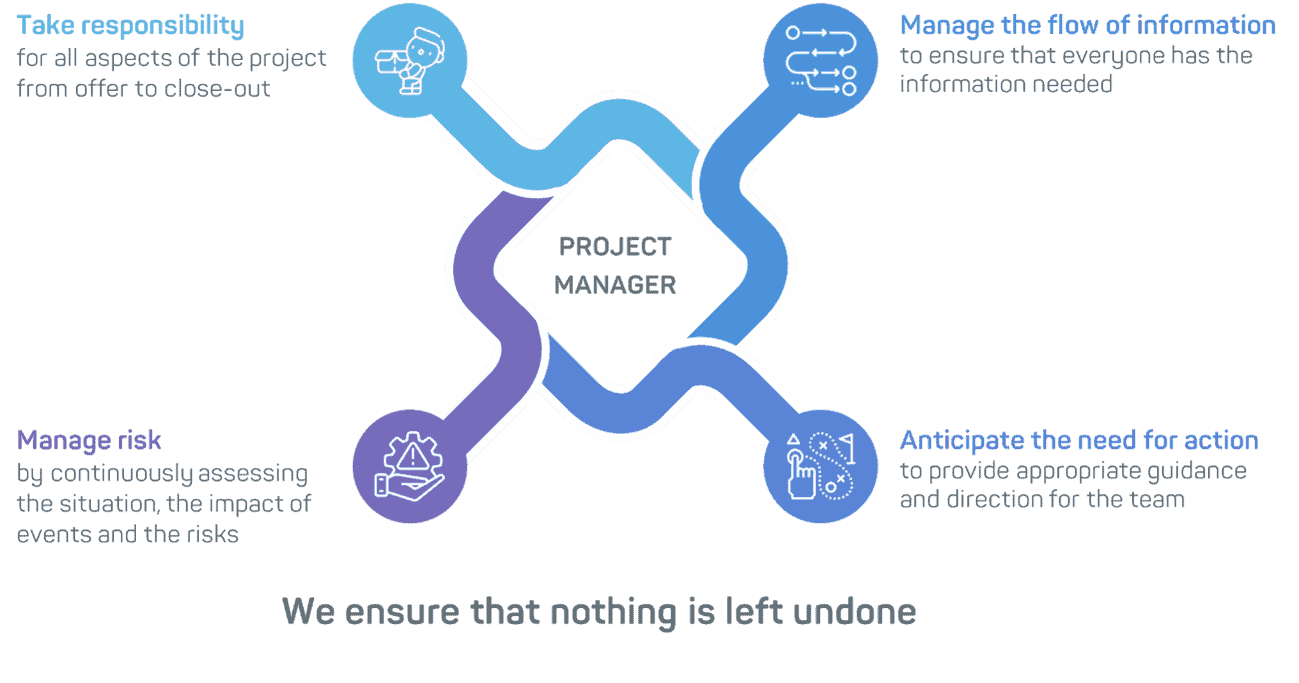 We are a CDMO involved from RFP to delivery and more
The GTP Bioways Project Management team is involved from the initial assessment phase and brings together all project activities throughout the implementation of the project.

CDMO Project Design
Our project design team is involved from early discussions with our business development team. Backed by their strong scientific knowledge, our team will work with you to design a project that meets your technical constraints. Our expertise enables us to advise you on the most effective way to perform the process development step and further GMP manufacturing of your innovative therapy.

Understand the project objectives and customer requirements
Develop a solution according to the customer's needs
Evaluate the resources required and define the scope, timelines and costs
Create a proposal and review it with the customer

Project initiation
Assemble the team dedicated to the project (Project manager and experts – Process Development, Analytical Development, Quality Control, Quality Assurance, GMP Manufacturing, HSE …)
Review project objectives, planning and scope with the customer
Align the project governance with the customer's needs & expectations
Assess project-related risks alongside purchase order and risk management
Project execution: from process development to GMP manufacturing
Lead the project through each technical phase
Actively manage risk among the project team (project managers, experts) in order to adjust the scope of work based on progress and results
Monitor and control the project status (quality, quantity, time and costs)
Closely collaborate and align with the customer and each partner involved in the project at all stages
Manage project communication (including regular customer calls & reports)
Continuous improvement through the project

Project close-out and support
Formally wrap-up the project with the customer and the business development team
Extract lessons learned and identify improvement opportunities
Review detailed customer feedback
Endless reactive support of the customer

Our mission is to provide outstanding services, solutions and support for our clients. We're dedicated to creating a positive experience for you every step of the way.