Monoclonal antibodies (mAbs) have become a dominant product class within the biopharmaceutical market. To date, therapeutic antibodies have been used to treat a plethora of indications including cancers, infections, autoimmune disorders, cardiovascular and neurological diseases. Let's take a step back to review the evolution of this flourishing market.
The therapeutic monoclonal antibodies market: an overview
The commercial development of therapeutic mAbs was initiated in the United States in 1986 by the first approval of the muromonab-CD3, indicated to prevent kidney-transplant rejection. Very few additional mAb drugs were approved until the end of the 90s, with the arrival of the first chimeric antibodies. After that, the rate of mAb product approvals and sales increased dramatically thanks to the development of fully human antibodies.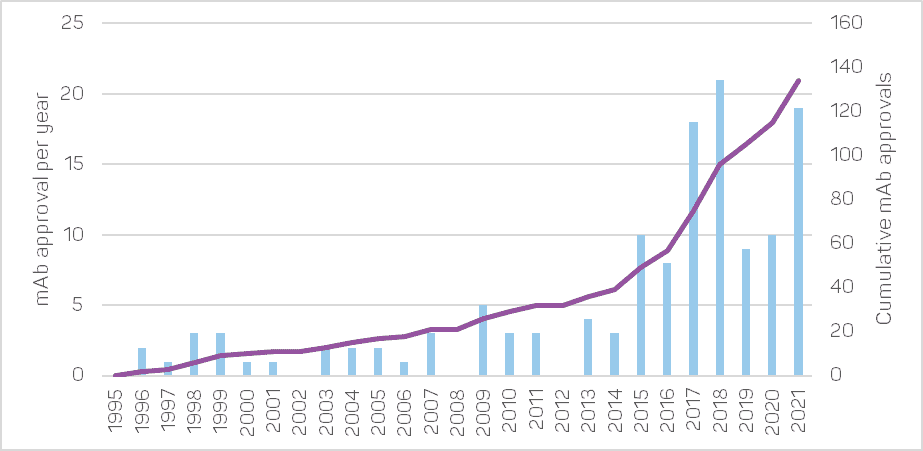 Figure 1 – EMA approval of therapeutic antibodies up to 2021
In 2019, the global sales revenue for all mAb drugs approached €154 billion[1], representing about 70% of the total sales for all biopharmaceutical products (nearly €220 billion). That is a significant increase in both sales and proportion since 2013, when it was €71 billion[2].
Therapeutic antibodies offer diverse and tuneable functionalities thanks to a diversity of formats
Many therapeutic mAbs and antibody-related products have been developed over years to adjust their mechanism of action and further treat a broad range of diseases:
Fab fragments and single-chain antibodies: antibody fragments are mostly investigated because of their improved pharmacokinetic properties and potentially improved tissue penetration rate.
Bispecific antibodies: they bind to two different antigens, giving them the ability to create an intimate physical proximity and further trigger a new function.
Antibody-drugs conjugates: antibodies able to bind to a specific target and then deliver a drug or a cytotoxic locally.
Given the large number of candidates currently in development (around 1,400), it can be expected that the yearly number of approvals in the upcoming years will become equivalent to the global number of approvals so far.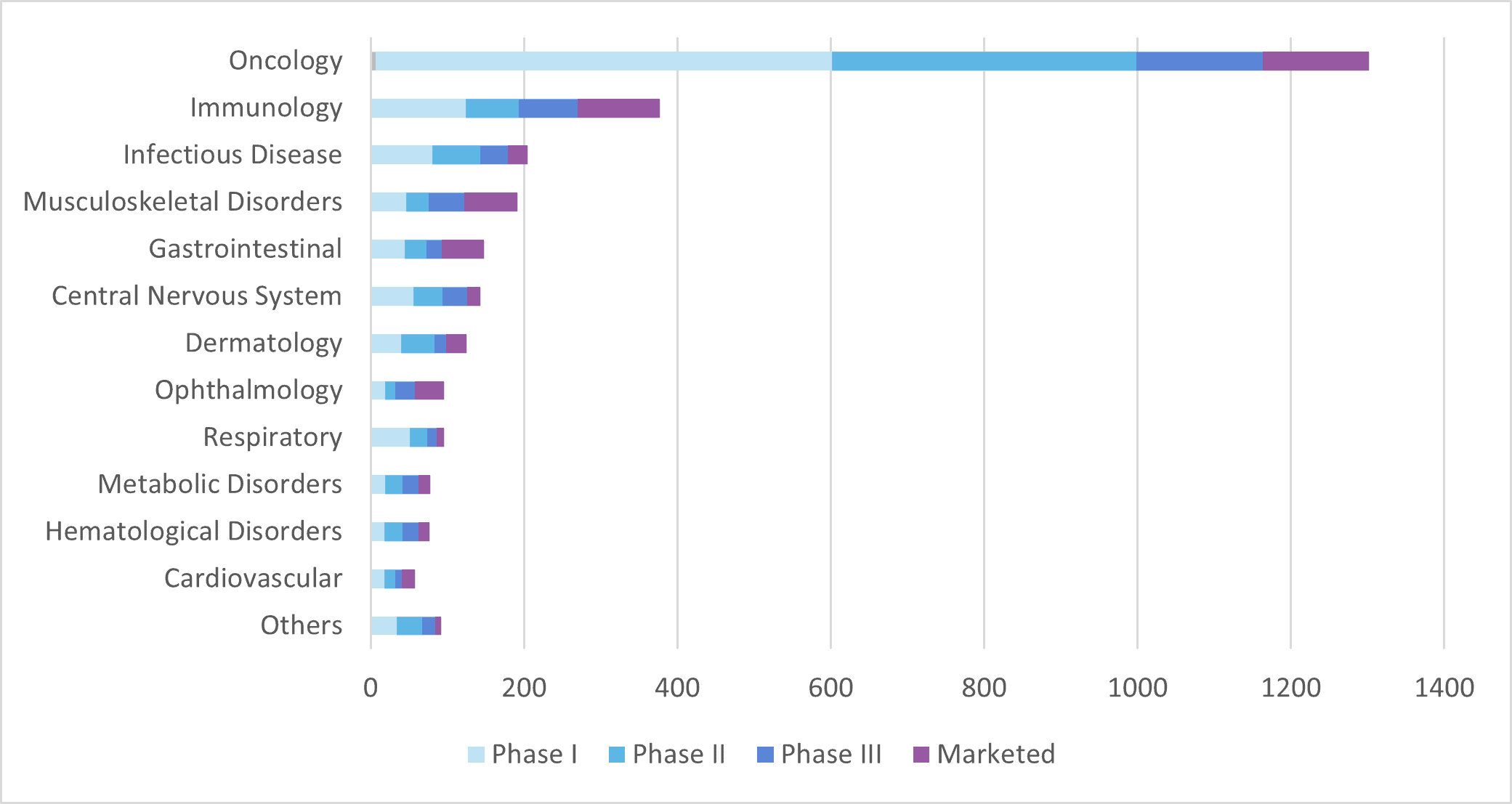 Figure 2 – Current development phase of mAbs under clinical development in the world, sorted by therapeutic area (data extracted from Global Data in April 2023)
A total of 139 mAb products have been approved in Europe since 1986, 23 of which have been withdrawn for different reasons, leaving 116 approved mAb products currently available on the market in Europe. As of June 2022, only five of those products were expressed by microbial systems whereas the vast majority were produced by mammalian cells.
Oncology remains the first therapeutic area for monoclonal antibodies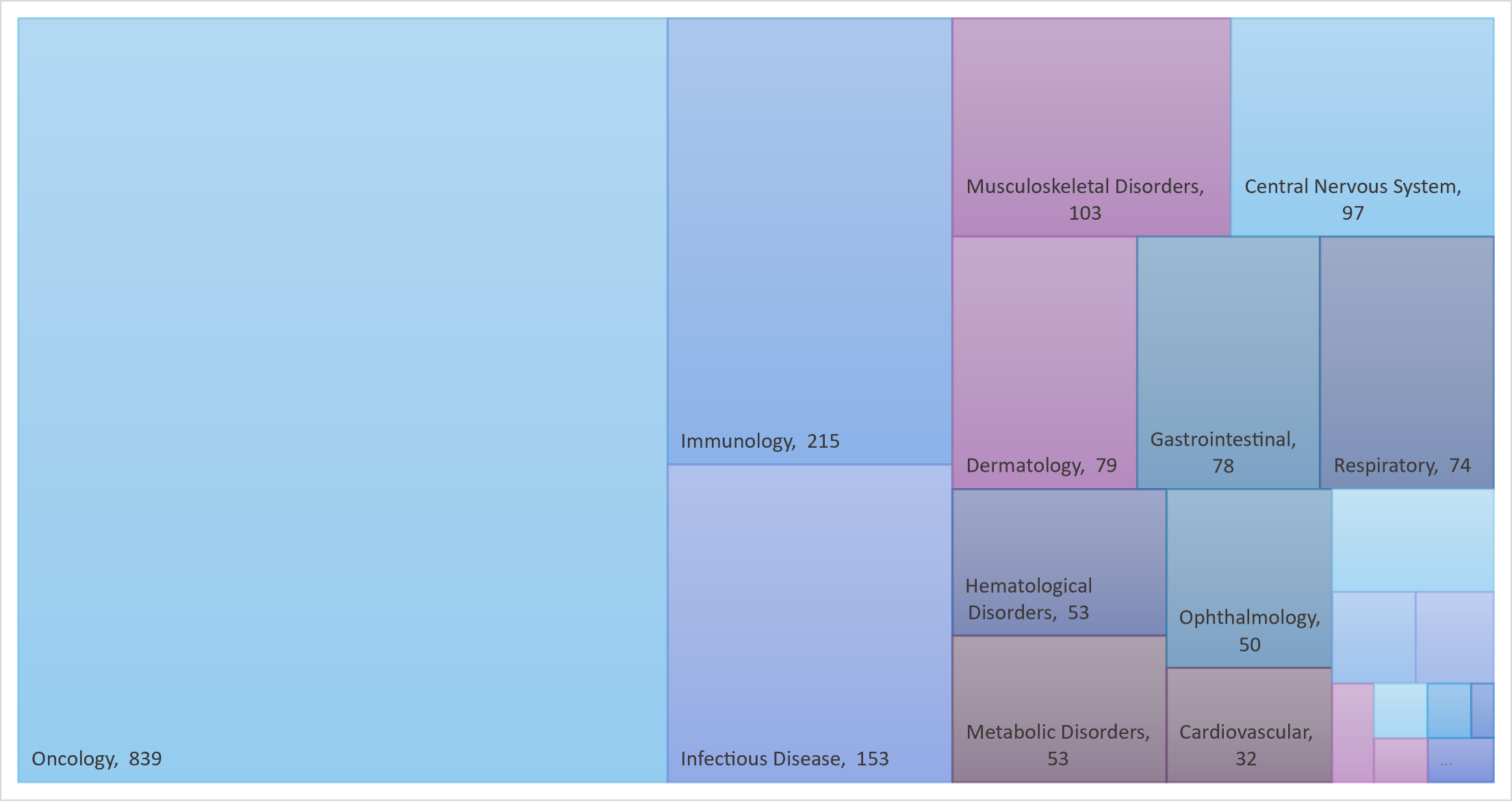 Figure 3 – mAbs currently under clinical development in the world, sorted by therapeutic area (data extracted from Global Data in April 2023)
Monoclonal antibodies are widely used to treat cancer, thanks to their diverse and tunable functionalities.
Direct targeting of cancer cells

Flagging cancer cells (antibody-dependent cellular cytotoxicity ADCC or phagocytosis ADCP). Some immune system cells depend on antibodies to locate their target. Therefore, a possible therapeutic approach is to develop an antibody which exclusively targets cancer cells, helping to detect and destroy them.
Directly attacking cancer cells (complement-dependent cytotoxicity CDC or induction of apoptosis). Certain monoclonal antibodies may attack the cell directly. When these antibodies attach to a cell, a series of events inside the cell cause it to self-destruct or trigger the immune system response that destroys the cancer cell membrane.

Targeting cancer cell environment

Blocking cell growth. Monoclonal antibodies may be used to block the connection between a cancer cell and proteins that promote cell growth — an activity that is necessary for cancer growth and survival.
Preventing blood vessel growth. In order for a tumor to grow and survive, it needs a blood supply. Therapeutic antibodies can be administered to block protein-cell interactions necessary for the development of new blood vessels. (e.g. mAbs targeting vascular endothelium growth factor VEGF)

Delivering treatment

Delivering radiation treatment. Because of a monoclonal antibody's unique ability to bind to a cancer cell, the antibody can be engineered as a delivery vehicle for other treatments. By combining a monoclonal antibody with a radioactive element, it transports the radioactive treatment directly to cancer cells and hence minimises the effect of radiation on healthy cells.
Delivering chemotherapy. Similarly, monoclonal antibodies combined with a chemotherapy drug allow a site-specific delivery of the cytotoxic, limiting off-site toxicity.

Enhancing the immune system

Binding cancer and immune cells. Some drugs combine two monoclonal antibodies, one that attaches to a cancer cell and one that attaches to a specific receptor of the immune system. This connection promotes an immune system attack on the cancer cells.
Blocking immune system inhibitors. The human body keeps the immune system from being overactive by making proteins (inhibitors) that control the activity of immune cells. mAbs can be engineered to interfere with this process.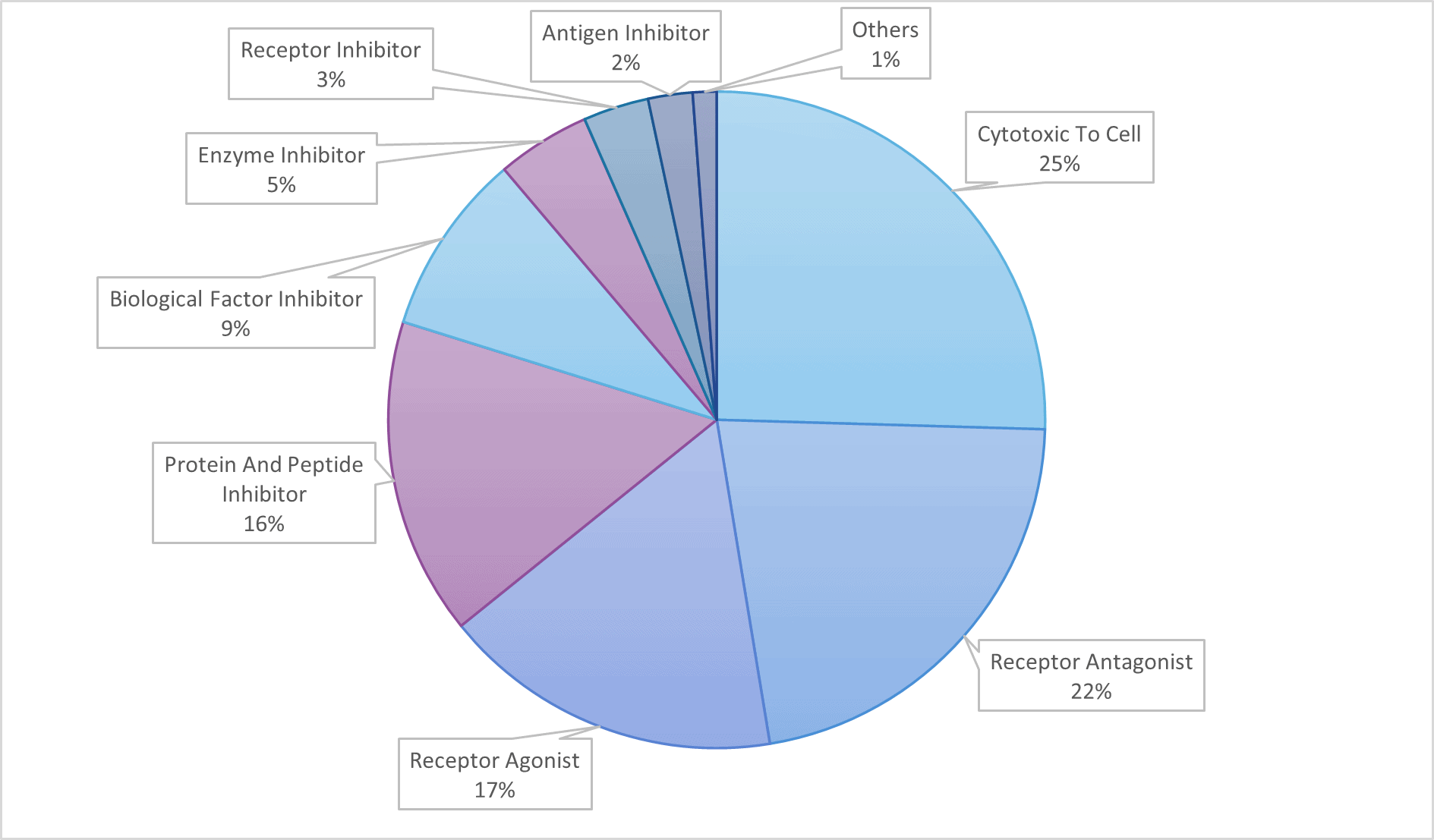 Figure 4 – Action mechanism of mAbs intended for oncology (data extracted from Global Data in April 2023)
All of these mechanisms of action can be leveraged in other indications, depending on the pathophysiological process at play.
Impact of COVID-19 on the clinical development of monoclonal antibodies
The COVID-19 pandemic has had a significant impact on the development of monoclonal antibodies for infectious diseases, seeing it accelerate as researchers and pharmaceutical companies worked to find effective treatments. The first monoclonal antibody therapy for COVID-19, bamlanivimab, was granted emergency use authorisation by the US Food and Drug Administration in November 2020 (now withdrawn[3]). Since then, several other monoclonal antibody therapies have been authorised for emergency use. As of April 2023, about half of the monoclonal antibodies intended for infectious disease (124 out of 258 mAb currently under clinical development) are for COVID-19-related therapies (COVID-19, COVID-19 pneumonia, COVID-19-associated acute respiratory distress syndrome, COVID-19-associated cytokine release syndrome, COVID-19-associated acute lung injury).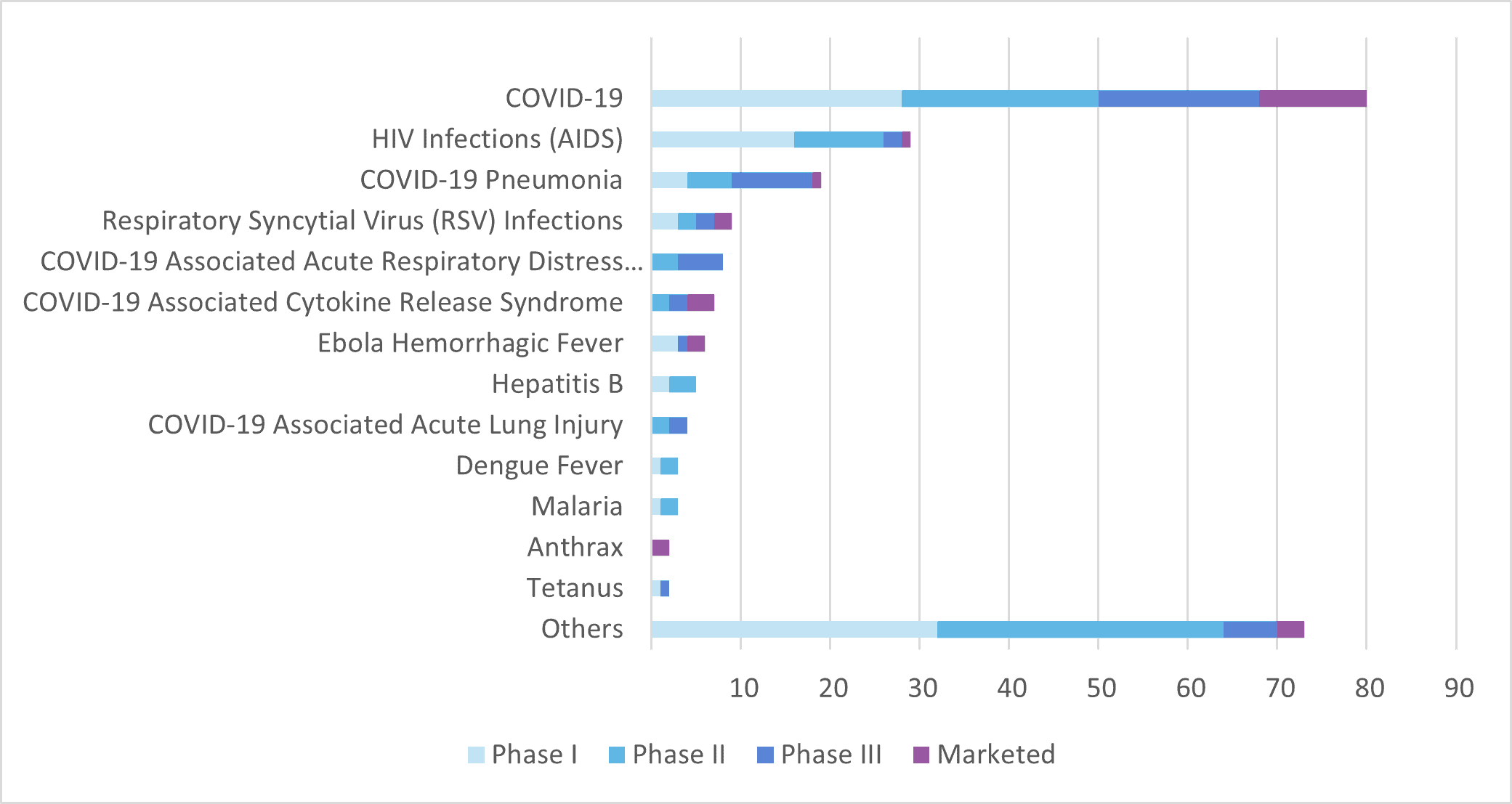 Figure 5 – Current development phase of mAbs (intended for infectious diseases) under clinical development in the world, sorted by indication (data extracted from Global Data in April 2023)
The experience gained from the development of monoclonal antibodies for COVID-19 is likely to have an impact on the development of monoclonal antibodies for other infectious diseases in the future. For example, researchers have learned more about the optimal timing and dosing of monoclonal antibody therapies and have identified potential targets for future therapies.
Monoclonal antibodies remain promising for future therapies
In conclusion, the therapeutic use of monoclonal antibodies (mAbs) has revolutionised the biopharmaceutical market, offering diverse and tunable functionalities for the treatment of various diseases. Over the years, the development of mAbs has experienced significant growth, with an increasing number of approvals.
With a vast number of mAb candidates currently in development, the future holds promise for continued growth and an increasing number of approvals. As researchers uncover more about the therapeutic potential of monoclonal antibodies and refine their applications, the field is poised to address a wider range of indications, further improving patient outcomes and revolutionising the landscape of modern medicine.
[1] BioProcess Technology Group – Life Sciences Practice, BDO USA. bioTRAK® Database. BDO USA, LLP, Boston, MA, 2020; https://www.bdo.com/industries/life-sciences/bioprocess-technology.
[2] Ecker, DM, et al. The Therapeutic Monoclonal Antibody Market. mAbs 7(1) 2015: 9–14; https://doi.org/10.4161/19420862f.2015.989042.
[3] https://www.ema.europa.eu/en/documents/withdrawal-letter/withdrawal-letter-bamlanivimab-etesevimab_.pd