GTP Bioways brings together three French companies to provide expert development and manufacturing for biopharmaceuticals

GTP Technology, GTP Biologics and GTP Nano, three business entities specialised in the production of biotherapeutics and nanotherapeutics, are now offering a continuum of services from R&D to drug product manufacturing. The GTP Bioways group is entirely located in France – Toulouse in the south and Saint-Julien-en-Genevois in the east – and offers flexible solutions to the needs of biopharma companies developing innovative therapies.
Market conditions favourable to relocating and manufacturing in France
For over 20 years, (bio)pharmaceutical companies have been innovating in the treatment of neglected rare diseases. This has been through developing new therapies such as antibody or recombinant proteins manufactured from living cells, or nanotherapies, which involve formulating active principles in the form of nanoparticles for wider availability.
To develop and manufacture these new therapies, companies rely on CDMOs (Contract Development and Manufacturing Organisations) with the right tools and experience to manufacture drug batches for clinical studies and commercialisation. The global bioproduction market is fast growing, estimated at around 10 billion EUR in 2020 and with double-digit growth expected over the next 5 years.
Tailored solutions for the development of biopharmaceuticals
Behind GTP Bioways is a desire to bring together complementary expertise and provide tailored services to the biopharmaceutical industry. Together, GTP Bioways' 3 entities cover every step in the value chain, from R&D to pharmaceutical production. Through this unique offer, GTP Bioways can flexibly develop and manufacture, in France, biotherapeutic products with a strong therapeutic potential, and allow biopharmaceutical companies to test them through clinical studies.
GTP Bioways: 20 years' experience and recognised expertise
At the GTP Tech facility, located in Labège, Toulouse, a team of 45 has been working with national and international clients for over 20 years to develop processes for the production of antibodies and recombinant proteins.
With a team of 15, the GTP Nano facility has expertise in aseptic filling and GMP production of nanotherapeutics in partnership with French research institute CEA Leti.
This offer is rounded off by GTP Biologics, through a strategic partnership with the Fareva group, which specialises in the GMP production of bioproducts.
The group's service offering is set to grow further in the near future.
GTP Bioways was founded and is led by Alain Sainsot, previously Industrial Director and Director of Group Operations and Logistics at Pierre Fabre, and President of Amatsigroup.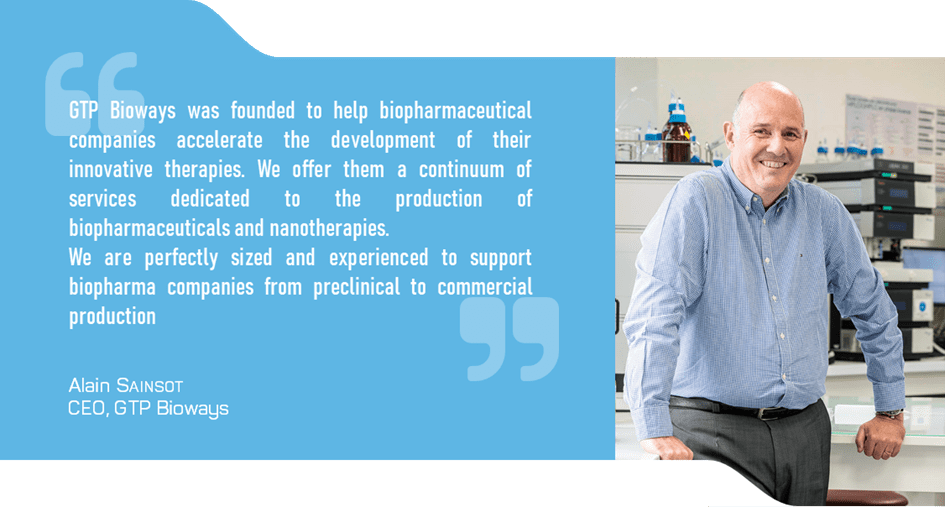 GTP Bioways: key figures
95 employees
Combined turnover target for all 3 entities in 2021: 12 million EUR
Contact:
Press: Laurence Padiolleau 05.61.28.70.20 contact@gtp-bioways.com
Photo: Arnaud Späni